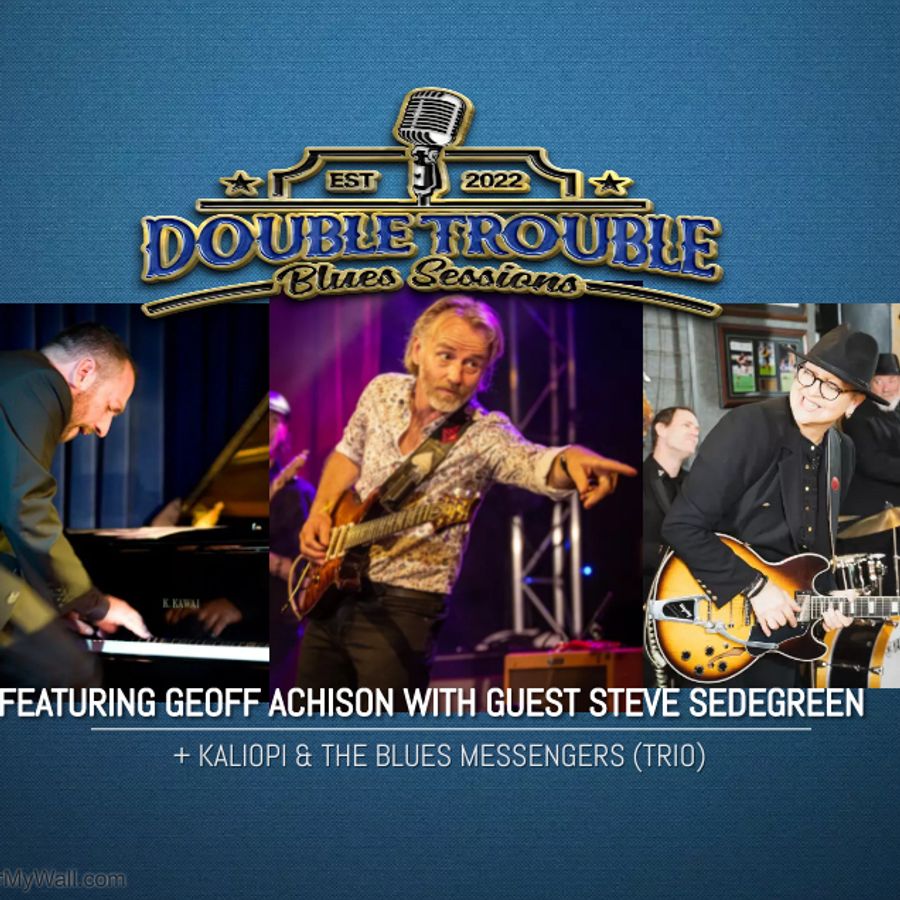 GEOFF ACHISON & STEVE SEDEGREEN TALK BLUES/JAZZ AT RICHMOND CENTRAL CLUB THIS SUNDAY ARVO FOR DOUBLE TROUBLE BLUES SESSIONS
written by The Partae
You both bring your own unique flavour of Blues (Geoff) and Jazz (Steve) in that shared space. Particularly with you both leading the jam, how do you expect to manage and lead Kaliopi & the Blues Messengers during the jam?
G – I spent many years touring as a solo artist and having backing groups supplied for me at various destinations. It wasn't unusual for me to meet the band as we were plugging in our amps and tuning up. It was a steep learning curve, but over time I developed a range of techniques for assessing where the individual & collective strengths lay, and an inner repertoire of blues standards that could be whipped into some sort of shape to create a night's entertainment for the crowd. It is slightly terrifying, but that's also what makes it exhilarating. It's a good crew and they are all stonking good players, so I am simply looking forward to it!
S – I will let it evolve and provide some direction if needed, making sure all musicians feel safe, and can be themselves to express their voice.
Back in the day at Dizzy's on Swan St we used to have a Blues night on Cup Eve. It was always a huge success with Geoff and I "meeting in the middle" as he tried to be more 'Jazzier' and I tried to be more 'Bluesy' the result was always unexpected, but great fun and very enjoyable for all.
Geoff, you've recently been in the studio recording a new acoustic album. Can we expect you to shed some of your new material or recent recordings in your solo set prior to the all-in jam?
G – Yeah, I'll play a solo set to kick off the day, and there'll likely be a few of the tracks I've recorded for the solo album. The main crux of that project is that it's all direct to tape, no overdubs, just me with my acoustic guitar, and intended for release on vinyl. So it's old-school recording showcasing a few newies mixed with some old faves which have never been available on wax before. In any case, the solo acoustic set-up allows me the freedom to simply play whatever pops into my head. I can change the chord sequence, the key and even the tempo if I want to if that's where the feeling takes me. A lot of young artists use loops and pedals with their acoustic guitars these days, and they sound amazing, but I'm still kicking it with wood, wire and my bare hands. It's simply the purest and most honest music can get.
What significance is Richmond's Central Club Hotel for you both?
G – The good old Central Club was a venue I used to make a weekly excursion to for their Tuesday night jam session way back in the 1980's. It usually featured all manner of up and coming bands playing a variety of styles whether it was blues, folk, punk, rock, pop, jazz or ska. in the 90's, it became a favourite for national and international blues acts. In 1995 I played a set at The Central Club that won me a ticket to the USA to play the 12th Annual Blues Talent Competition in Memphis Tennessee. So yeah, the good ol' Central Club has always had a place in showcasing and promoting local music in Melbourne. It is just awesome to be returning there for this the next Double Trouble Blues Sessions.
S – I have a very close relationship with that venue, I have launched CD's there, I house my Concert Grand Piano there, hosted many performances there and continue to hold regular performance workshops there.
The Hotel of course has a very strong legacy and historical context of great Australian music and bands.
You have both mentored and taught Kaliopi, how do you think your blended qualities will transcend into her performance or the all-in- jam set?
G – There's no doubt it, Steve is the maestro here, but I just love that Kal has taken the opportunity to learn from as broad a range of musicians as she can. The blues is a huge story of which jazz is a major part. My approach probably leans more towards a roots-rock style, whilst Steve's musicality embraces a style so broad that it defies definition. It's something we all aspire to achieve, but for my part, I am hoping to learn a lot from Sunday's gig with Steve & Kal.
S – Kali has a deep emotional connection to music particularly the Blues, and so is ideally suited to this music. The essence of the blues is achieved by playing with honesty and from the heart with a firm sense of self belief. Kali already has these qualities and so will only offer a deeper experience and performance.
GEOFF ACHISON TALKS ABOUT DOUBLE FEATURE SHOW DEC 18 ZIGGY POPS WITH JIMI HOCKING FOR DOUBLE TROUBLE BLUES SESSIONS